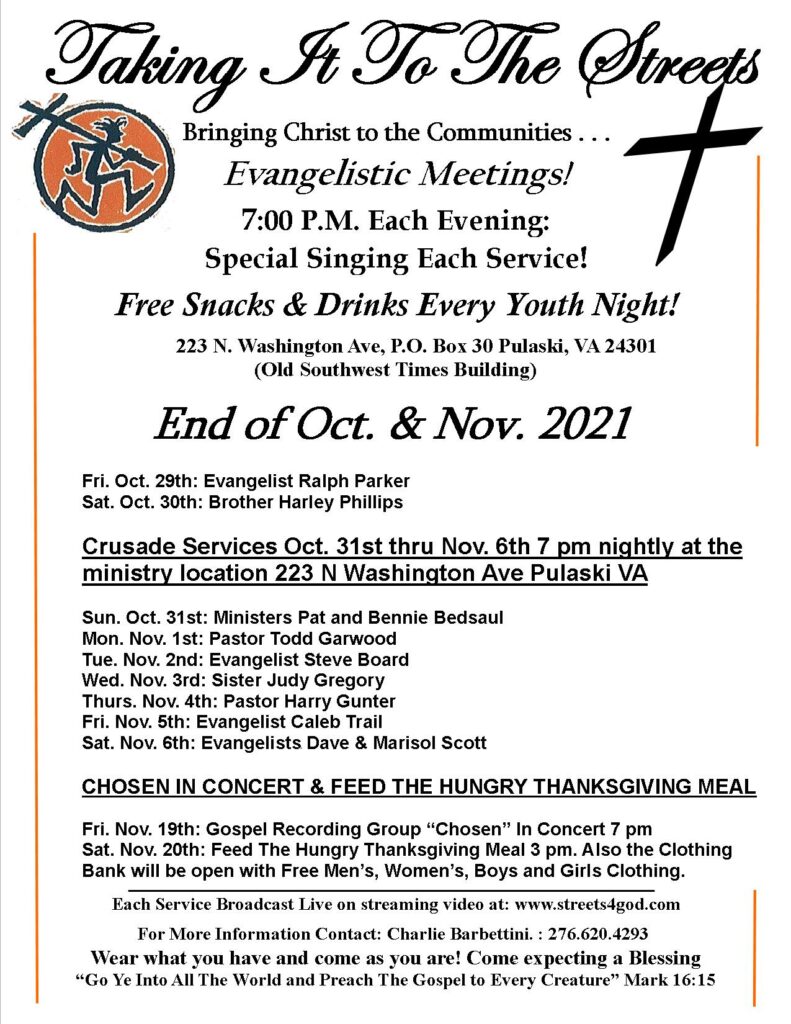 It's a big month at Taking It To The Streets Ministries and we invite everyone to come be a part of everything.
Beginning with Crusade services from Oct. 31st thru Nov. 6th at 7 pm each night.
Sun. Oct. 30th: Ministers Pat & Bennie Bedsaul, Mon. Nov. 1st: Pastor Todd Garwood, Tues. Nov. 2nd: Evangelist Steve Board, Wed. Nov. 3rd: Sister Judy Gregory, Thurs. Nov. 4th: Pastor Harry Gunter, Fri. Nov. 5th: Evangelist Caleb Wayne Trail, Sat. Nov. 6th: Evangelist Dave & Marisol Scott.
Next on Friday Nov. 19th Gospel Recording Group "Chosen" will be with us in Concert at 7 pm.
To finish up the month on Saturday Nov. 20th at 3 pm we will be having our 12th Annual Feed The Hungry Thanksgiving Meal.
We will be live streaming all services and "Chosen" in Concert at streets4god.com, on YouTube and Facebook.
We hope to see you all throughout the month of November at The Streets at our present location 223 N Washington Ave Pulaski Va.