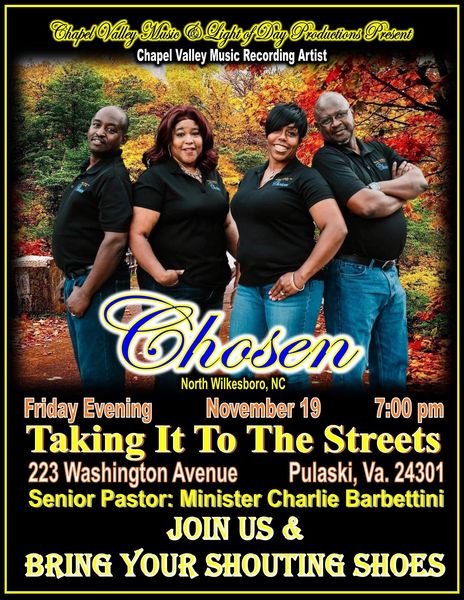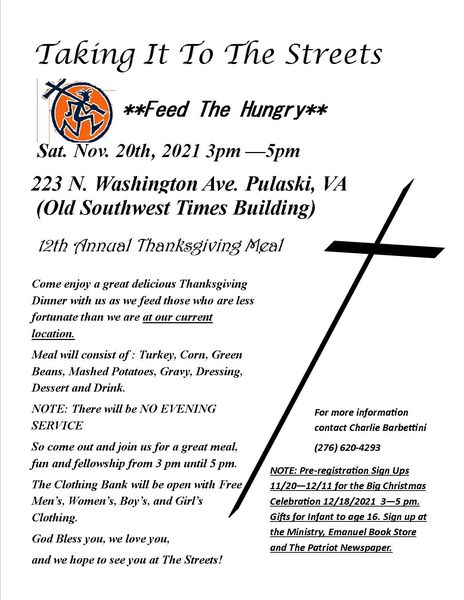 It's a BIG weekend coming up at Taking It To The Streets Ministries Nov.19th and Nov. 20th located at 223 N Washington Ave in Pulaski Va. Make plans now to be with us.
Gospel Recording Group "Chosen" will be with us in Concert Friday November 19 at 7 pm. You won't want to miss this fantastic highly anointed group. We will be live streaming the Concert at streets4god.com, on YouTube and Facebook.
Saturday November 20th we will be having our 12th Annual Feed The Hungry Thanksgiving Meal from 3 pm till 5 pm. The Clothing Bank will be open with Free Men's, Women's, Boys and Girls Clothing.
Also on Saturday November 20th Pre-registration begins for our Big Christmas Event Saturday December 18th at 3 pm. You can sign up your children infant to 16 at Taking It To The Streets, Emanuel Book Store and The Patriot Newspaper Saturday November 20th thru Saturday December 11th. Children must be present to receive gifts.
We look forward to seeing you at The Streets!